Ref:
Date:
Location:
Photographer:
[clikcontent type=paymentBuyLink replaceable=true]
Ref:
Date:
Location:
Photographer:
[clikcontent type=paymentBuyLink replaceable=true]
LATEST NEWS
June 2017


Drawings and Prints at Morgan Showroom
Clerkenwell Design Week may have come and gone, but Chris's exhibition of prints and original drawings continues at Morgan London until the 31st of August.
All work is for sale and prints can be ordered online via this website.
www.morganfurniture.co.uk
May 2017


Making Space talk at Morgan Showroom
Chris has been invited by Morgan London to talk about his work in furniture, objects, and sculpture, and how his architectural studies form the background to all this.
Please join us at 11am on the 23rd May, at Morgan London - all welcome.
www.morganfurniture.co.uk/2017/05/morgan-cdw-2017//a>






May 2017


Making Space at Morgan Showroom for Clerkenwell Design Week


For Clerkenwell Design Week 2017 Chris has been invited by Morgan London to show a selection of his architectural drawings and prints. Titled Making Space, the exhibition opens on the 23rd May with an illustrated talk by Chris at 11am in the Morgan Showroom, 1 Dallington Street, Clerkenwell.

More details at :
www.clerkenwelldesignweek.com/events/making-space-talk-by-architect-chris-eckersley/
Chris is showing a new edition of 12 archive-quality fine digital prints based on drawings made at various Le Corbusier sites, plus 18 original drawings, including his award-winning sketch-survey of the Pazzi Chapel.
All works are for sale.
Morgan are also presenting an installation by artist Mark McClure, and new furniture collections designed by Katerina Zachariades.
April 2017


Launch of Modern Mendlesham in Milan
Chris and Sitting Firm are launching the
Modern Mendlesham
chair with
Designersblock
at this year's Salone Internazionale del Mobile, in Milan.
Chris has based the design on the distinctive regional chairs made in East Anglia from around 1790 to 1830, updated for 21st century living.
See us at via Dante 14, Milano, from the 4th until the 9th of April.
www.verydesignersblock.com/events/designersblock-milan-2017/
March 2017


Instagram
Chris is now on
Instagram
specifically posting examples relating to his ongoing love of drawing.
The idea is to create a platform for Chris's research into so-called 'good' proportions and the experience of architectural space.
Guaranteed no pets, no food, no cappuccinos-with-artistic-froth, no selfies, no footsies - just drawings
www.instagram.com/chris_eckersley/
February 2017


The Forge Floor Lamp launched
Chris's
Forge Floor Lamp
for artisan blacksmiths
Made By The Forge
has just been launched, and are now available at:
www.madebytheforge.co.uk/lighting/standard-floor-collection.html
.
The lamps come with a choice of finials which exactly match MBTF's range of handmade curtain poles.
December 2016


The Schroder House
Chris is just back from a trip to Utrecht where he has been drawing at the Rietveld-Schroder House in preparation for an exhibition at Morgan London in 2017.
More to follow soon...
centraalmuseum.nl/bezoeken/locaties/rietveld-schroederhuis/
November 2016


The Discerning Eye
The
Discerning Eye
opened at the Mall Galleries on Thursday. This year there are a record 725 works by over 400 artists on show which is a real mix of painting, drawing, sculpture and multi-media. All works are small - the deal is everything has to be under 50cm in its maximum dimension.
Chris's pieces include
162
and two drawings from the
Mornings in Florence
project.
Worth a look!
www.discerningeye.org/archive/2016/2016_10.php?art=ECKERSLEY,%20Chris
September 2016


The Discerning Eye
Two paintings and two drawings by Chris have been selected for this year's
Discerning Eye
exhibition at the Mall Galleries.
The 2016 Discerning Eye Exhibition will be the 25th show and will open to the public on Thursday 17 November and run until Sunday 27 November.
Admission will be free and all works will be for sale.
www.discerningeye.org/index.php
September 2016


Launch of Tottenham Court Mod Bar Stool
Chris's bar stool design has just gone into production at Sitting Firm Chairmakers. It partners Chris's chair of the same name, which was designed during
The Great Heal's Bodging Race
at Tottenham Court Road.
It's available in English Ash or European Oak, from Sitting Firm, or direct from this webiste (see 'ONLINE SHOP').
August 2016


Peckham Festival
The first Peckham Festival takes place in Sep 2016, bringing together local art, music, food and all that makes Peckham a great place. Read Chris's story of his visit to Kaymet whose workshop can be visited as part of the Open Studios event :
www.peckhamfestival.org/2016/08/03/open-studios-kaymet-a-south-london-design-icon/
July 2016


Reuben armchair launched by Arlo & Jacob
Chris's
Reuben
armchair is now available exclusively from Arlo & Jacob, either online or from their London showroom. This elegant comfortable chair has either an oak or walnut frame and there's a choice from a huge range of upholstery fabrics.
More details at:
www.arloandjacob.com/chairs
July 2016


15 degrees installed at Doddington Hall
Chris is just back from Lincolnshire where he has installed
15 degrees
in the grounds of Doddington Hall as part of their biennial sculpture show. The exhibition opens on the 30th of June and runs until September 11th.
More details at :
www.doddingtonhall.com/whats-on-detail.php?Sculpture-Exhibition-RETURNS-122
June 2016


Arlo & Jacob
Chris is the latest designer to join the team at Arlo & Jacob, a family-run company based in Long Eaton (the home of British upholstered furniture) with a showroom in west London. Everything at Arlo & Jacob is made on a one-man one-job basis; their factory made up of generations of craftsmen and women. From the father-and-son carpenter teams, to the fabric technicians who have been perfecting their craft for decades, they pride themselves on attention to detail, craftsmanship and passion. Chris's
Reuben
chair will be launched very soon.
www.arloandjacob.com/our-designers/
May 2016


Launch of pendant lights for Made By The Forge
Chris's range of spun copper and aluminium pendant light fittings has just been launched by
Made By The Forge
.
This is a direct outcome of the ongoing
Forge Project
which is a collaboration between designers Anthony Dickens, Chris Eckersley, Gareth Neal, William Warren, and artisan blacksmith and farrier Richard Fishenden and his wife Juliet.
Made By The Forge
are based in rural Suffolk and are unique in that they plant a tree for every order placed.
The pendants can now be ordered from :
www.madebytheforge.co.uk
May 2016


Stipo shortlisted for Design Week Awards
It's just been announced that the
Stipo
cabinet range, designed by Chris and Sarah Kay for Heal's, has been shortlisted in the Furniture category at this year's Design Week Awards. The winner will be announced on June 14th at an event at the Honourable Artillery Company Gardens.
awards.designweek.co.uk
May 2016


The Barrel Store refectory table and chairs
The Barrel Store
is a brand new 'arts hostel' and part of New Brewery Arts, Cirencester. Chris was commissioned to design the sixteen-seat refectory table and chairs for the community room, and the furniture was made by Sitting Firm. Visitors can stay at the hostel, eat at NBA's organic cafe, meet the resident makers, and choose from a huge variety of courses ranging from art history to stone-carving.
Book yourself in for an arty break at
www.newbreweryarts.org.uk/stayatnewbreweryarts/
April 2016


The Barrel Store staircase
The Barrel Store
has just opened at New Brewery Arts, Cirencester. The massive solid oak staircase was designed by Chris in collaboration with architect Nicholas Arbuthnott, and is the main feature of the arts hostel's entrance and central space.
The curved walls are lined with sawn ash, giving the impression of the inside of a huge barrel.
www.facebook.com/YHACotswolds/videos/vb.877924452240707/1178244628875353/?type=2&theater
April 2016


VOTE NOW!
The second
Great Heal's Bodging Race
is over and now it's time to find the winner. Click the link below to vote for your favourite bodger. And every vote goes into a prize draw so one lucky voter will receive £100 in Heal's vouchers.
Everything made during the race will be on display in Heal's Tottenham Court Road store until the end of April.
www.heals.com/blog/bodging-16/
April 2016


The Wilson Bench
The 'Friends Bench', designed by Chris Eckersley and commissioned and given by the
Friends of the Wilson
to Cheltenham Art Gallery and Museum (a.k.a.
The Wilson
) was unveiled on the 7th of April.
Conceived as a modern day tribute to some of the very fine Arts & Crafts pieces in the Museum's collection, and intended as a resting place for visitors, the Wilson Bench was made by Dave Green and his team at Sitting Firm Chairmakers using local Ash from Herefordshire, and Elm from Scotland.
www.friendsofthewilson.org.uk/1017-2/
March 2016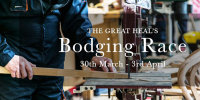 The Great Heal's Bodging Race 2016
Chris and the Bodging Project will again be taking part in a 'race' in the front windows of Heal's on Tottenham Court Road, as part of Heal's Modern Craft Market.
The team this year is Carl Clerkin, Chris Eckersley, Dave Green, Gitta Gschwendtner, Sarah Kay, and William Warren - plus a selection of crafty friends.
www.heals.com/heals-modern-craft-market
February 2016


Stipo cabinet range launched at Heal's
The
Stipo
cabinet range, designed by Chris and Sarah Kay, has just been launched at Heal's, and is available at their stores and online.
More details on how the range fits together at :
www.instagram.com/p/BBQM0QMueDx/
and at :
www.heals.com/stipo-bureau-unit-1.html
January 2016


Sanctuary furnishings for Our Lady of Victories
Chris and fellow designer Gareth Neal have been commissioned by the Roman Catholic Church of
Our Lady of Victories
, London, to collaborate on designs for new furnishings in stone, timber, and metal, for the Sanctuary.
This beautiful church was designed by Adrian Gilbert Scott in the 1950s, and is on Kensington High Street.
www.ourladyofvictories.net
December 2015


Stipo cabinet range preview
At Heal's store, on Tottenham Court Road, members of the press have just previewed the
Stipo
range of cabinets-on-stands that Chris has designed in collaboration with
Sarah Kay
. This is a very versatile range of elegant storage cabinets that can be combined in endless variations with a choice of two stand heights.
Stipo
will be available in store at Heal's in Spring 2016.
(photo by Simon Bevan).
December 2015


The Wilson Bench Commission
In 2013 Cheltenham Art Gallery and Museum reopened as 'The Wilson' after a £6 million pound redevelopment. Chris has been commissioned by
The Friends of the Wilson
to design and produce a piece of furniture for the Gallery's new foyer. The commission will take the form of a welcoming public bench. Cheltenham Art Gallery and Museum is well known nationally as having a major collection of Arts & Crafts Movement furniture.
www.cheltenhammuseum.org.uk
December 2015


Pazzi Chapel prints launched
Working closely with Fine Digital Print of Marlborough, a series of archive-quality limited edition signed prints is now available from Chris's award-winning drawing of the Pazzi Chapel, Florence.
These may be ordered in the 'order online' section of this website.
November 2015


FX Awards 2015

Chris is the winner of the FX Award for Drawing 2015 for his drawing of the Pazzi Chapel at S. Croce in Florence, which the judges described as 'a standalone artwork by itself; a beautiful drawing of Brunelleschi's Renaissance building, rhythmic and descriptive.'

The drawing is part of Chris's ongoing 'Mornings in Florence' project, an investigation into so-called 'good' proportions.

More details at :
www.designcurial.com/news/fx-awards-2015-the-winners-4718126/5








November 2015


Devon chair at Furniture Makers' Hall

Following the recent refurbishment of the Worshipful Company of Furnituremakers' premises at Austin Friars, London, two of Chris's Devon chairs have been selected for display in the reception area. The occasional table is by Mark Gabbertas.

The chairs and table will remain in place until the new year, when other pieces from the Design Guild Mark scheme will be shown.

www.furnituremakers.org.uk






November 2015


Doddington Hall Sculpture Biennale 2016

Chris has been selected to take part in next year's outdoor sculpture exhibition at Doddington Hall near Lincoln, a stunning 1590s house designed by the legendary Elizabethan architect Robert Smythson.
Chris will be showing his 'systems' piece 15 Degrees. The exhibition will open at the end of July 2016.


More information at : www.sculpturedoddingtonhall.com/gallery/




November 2015


The Barrel Store

Chris has been commissioned by New Brewery Arts to design the refectory table and chairs for their new 'Barrel Store' arts hostel in Cirencester. This is an exciting new venture for NBA and will enable them to run residential craft courses and many other events.
The table and chairs will be made by hand in English Ash from Herefordshire by Dave Green and his team at Sitting Firm.

More details at : www.newbreweryarts.org.uk/making-a-visit/the-barrel-store




October 2015


Hothouse 6

Chris has been invited to join the interview panel for this year's Hothouse which is a Crafts Council initiative to support emerging makers.
Hothouse includes one-day and residential workshops, 1:1 mentoring, and connects new makers to a national network of organisations. It provides the tools to grow a sustainable and successful business and has already helped 163 makers establish a strong foundation at the start of their career.

www.craftscouncil.org.uk/what-we-do/hothouse/




October 2015


SIT:Select Conference 2015
There are still a few tickets left for the SITSelect Conference in Cheltenham on October 24th (Chris is one of the speakers) and the theme will be :
Crafting the Future : Technology and the Handmade. Tickets are available at : www.sitselect.org/showcase/showcaseconference.html




September 2015


FX International Design Awards

It's just been announced that Chris has been shortlisted for the FX International Design Awards 2015 in the Drawing category.

The winner will be announced at an event at the Grosvenor Hotel in London's Park Lane on 25th November.

Follow this link for more details : www.fxdesignawards.co.uk/#shortlist





September 2015


London Design Festival

Chris's Tottenham Court Mod chair, which was prototyped during the Great Heal's Bodge earlier this year, is being launched by Sitting Firm Chairmakers at their stand (LS09) at designjunction.

The exhibition runs from the 24th to the 27th of September and is at 'The College' - the old Central Saint Martins building on Southampton Row.
Other chairs showing are by Sarah Kay, Gitta Gschwendter, Katie Walker, Dave Green, and Koji Katsuragi.

More details at : thedesignjunction.co.uk/brands/sitting-firm/






July 2015


FX Drawing Competition 2015

FX magazine have produced a short film about this year's FX Drawing Competition which featured two drawings by Chris of the Pazzi Chapel.
Click on this link to view the film :
drive.google.com/a/swanowl.com/file/d/0BzQhY92reiGQYm51YjB0a3hySzA/edit







June 2015


Moreton Wood

Chris has also been chair-seat cording with Jo Morton at Moreton Wood, using a frame from one of his Tottenham Court Rocker chairs.

The plan is that this new chair, which was made in prototype form during the Heal's Great Bodging Race earlier this year, will be put into production by Sitting Firm Chairmakers.






June 2015


Moreton Wood
Chris has been basket making with Jo and Paul Morton at Moreton Wood in deepest Herefordshire. Moreton Wood is a beautiful 38 acre woodland managed for conservation and biodiversity by Paul and Jo who are passionate about wildlife and woodland ecology.
They celebrate their work by holding fun and informative wildlife events for the local community and others interested in Moreton Wood. Timber that is removed for the good of the woodland ecology is used to make beautiful, individual hand made products.
Woodland visits and courses are arranged throughout the year : www.moretonwood.co.uk



June 2015


Coventry chair for Cox & Cox

Sitting Firm have just produced a special Elmwood edition of Chris's Coventry chair for online retailer Cox & Cox.

Launched in 2001 with the desire to create a handpicked collection of homeware products that you couldn't find in traditional catalogues, Cox & Cox have taken inspiration from unique and eclectic products that are practical but also beautiful.


Click here for Cox & Cox : www.coxandcox.co.uk/furniture/new-handcrafted-elmwood-chair








June 2015


15 Degrees at Fresh Air 2015

Chris's sculpture 15 Degrees has now been installed in the grounds of Quenington Sculpture Trust, and the exhibition Fresh Air opens on Sunday the 14th of June. This is the twelth biennial sculpture show at Quenington and features the work of almost 100 artists.
The exhibition is curated by Ana Bianchi, and all work is for sale!
More details and how to get there : /www.freshairsculpture.com/




June 2015


FX Drawing Competition 2015

It's just been announced that two drawings by Chris (of the Pazzi Chapel) have been selected for this year's FX Drawing Competition.
The exhibition opens on the 2nd of July at BDG architecture+design, East Studion Riverside Walk, London SE1.
Chris's drawings were chosen by Drawing at Work's director Trevor Flynn as his personal favourite - read his blog here :
www.drawingatwork.co.uk/blog/post.php?s=2015-06-fx-drawing-competition




June 2015


Pool House Gallery at Fresh Air 2015
Chris was invited by Miranda Leonard and Fiona Haser - the curators of this year's Pool House exhibition at Fresh Air 2015 - to create a jewellery box inspired by the circular library building at Quenington Old Rectory. Chris has collaborated with Bonner Leather Studio, and woodturners Sitting Firm to produce a beautifully crafted 'box'. The show is at Quenington, Gloucestershire, and opens on Sunday June 14th continuing until Sunday July 5th.
More details and how to get there at : www.freshairsculpture.com/pool-house-gallery/
Click on this link for the Bonner Leather Studio : www.bonnerleatherstudio.co.uk



May 2015


SIT:Select Conference 2015
Chris will be one of the speakers at this year's SIT:Select Conference in October at Cheltenham Town Hall. Other speakers are : Mark Henderson, Peter Layton, Mary Greensted, and Ptolemy Mann. The theme is : Crafting the Future : Technology and the Handmade. Tickets are available at : www.sitselect.org/showcase/showcaseconference.html




May 2015


Harpsden tables for John Lewis
Chris has designed a nest of tables for Sitting Firm Ltd who were invited by John Lewis to produce a range of occasional tables for their Croft Collection spring/summer 2015. Chris's design comprises two small tables, which fit neatly under a larger table, thus Harpsden gives a good-sized coffee table with a pair of matching tables, instead of the traditional nest of tables of three differing sizes. www.johnlewis.com/sitting-firm-for-john-lewis-harpsden-nest-of-3-tables/p1891721




May 2015


Ashridge console table for John Lewis

Chris has designed a console or sofa table for Sitting Firm Ltd who were invited by John Lewis to produce a range of occasional tables for their Croft Collection. Chris's design references traditional Windsor features - for example steam-bent 'crinoline' stretchers - whilst remaining a contemporary piece in English Ash from Herefordshire.

Ashridge can be ordered online or from all branches of John Lewis :
www.johnlewis.com/sitting-firm-for-john-lewis-ashridge-console-table/p1891715





May 2015


Launch of Kennet tray table for John Lewis

Chris has designed a table with lift off tray for Sitting Firm Ltd who were invited by John Lewis to produce a range of occasional tables for their Croft Collection spring/summer 2015.
The tray, which can be used on its own without the table, makes use of 'Shaker' technology for its steam-bent rim, and has a heat-proof Linoleum surface.

Kennet can be ordered online or from all branches of John Lewis :
www.johnlewis.com/sitting-firm-for-john-lewis-kennet-tray-side-table/p1891717







April 2015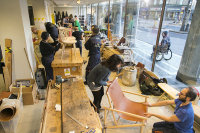 Bodging Milano rides again

Follow this link for more details on the Bodging group's latest show in Milan :

carocommunications.com/see-the-great-heals-bodging-race-in-milan/







March 2015


Fresh Air Sculpture Biennale 2015

It's just been announced that Chris is one of the artists selected for this year's Fresh Air Sculpture Biennale to be held from June 14th until the 5th of July in the grounds of the Quenington Sculpture Trust, Gloucestershire.
Chris is making a new powder-coated steel sculpture for the show; the maquette is shown here.
www.freshairsculpture.com/artists/




March 2015


Bodging Milano Heal's Edition
The Bodgers are back in Milan in April and all the prototypes made during the Great Heal's Bodging Race will be exhibited with (of course) Designersblock during the Salone del Mobile.The show runs from the 14th until the 19th of April at Ex-Ansaldo, via Tortona 54, Milano. For more details and to register go to :
www.verydesignersblock.com/events/designersblock-milano-2015/ and more at www.heals.co.uk/pcat/bodging-race




February 2015


RBSA Open All Media 2015

The first exhibition of the year at the RBSA Galleries in Birmingham previews on Thursday 26th February at 6pm. The exhibition, which includes a recent 'systems' painting by Chris, showcases work by artists from across the UK working in a variety of media, and will run until the 28th of March.

More details at :
www.rbsa.org.uk/whats-on/exhibitions/open-all-media-exhibition-3/








February 2015


The Harley Gallery Open Exhibition 2015

The third Open Exhibition at the Harley Gallery has its opening party at 1pm on the 14th of February, and runs until the 12th of April. Two paintings by Chris are included : 10 degrees and 6 by 6 and 10 degress and 7 by 7.
This year's selectors were James Green (printmaker), Julian Bray (painter), and curators: Lesley Beale (Lakeside Arts Centre, Nottingham), and Kirstie Hamilton (Museums Sheffield).
www.harleygallery.co.uk/exhibition/open-exhibition/




February 2015


The CASS Celebration Week 2015

On 13th February Chris is one of the guest critics at the CASS School of Design, reviewing the work of students on the Furniture/ Product courses.
This is part of 'Celebration Week', when undergraduate and postgraduate students show their work to a small selected panel of external critics as well as their peers.
More information on the CASS at : www.thecass.com/about1/school-of-design



February 2015


Sir Kenneth Grange at Heal's

Design legend Sir Kenneth Grange came into Heal's on Thursday (12th Feb) to cast his vote at the Great heal's Bodging Race.

Who will he vote for?
More details and photos at:

www.healsblog.co.uk/sir-kenneth-grange-pays-a-visit-to-our-bodging-race/





February 2015


VOTE NOW! VOTE NOW!

The Great Heal's Bodging Race is now over and it's time for the votes to be cast.
Please vote for : Carl Clerkin or Chris Eckersley or Gareth Neal or Koji Katsuragi or Sarah Kay or William Warren :

See all the chairs and vote online at :

www.heals.co.uk/vote-now/vote-now/page/vote

and click on this link to watch the bodging film :
https://www.youtube.com/watch?v=HE_gmKNrIdE





February 2015


Jonna rocking chair for John Lewis

Chris's lounge rocking chair, named Jonna by John Lewis, has just been launched.
This chair has an exposed stained beech frame that sits beautifully on rocker sleds. It's available in a very wide range of fabrics for the upholstery.

The chair can be ordered through the John Lewis website at :
www.johnlewis.com/john-lewis-jonna-rocker-armchair-arrone-charcoal/p1723540









February 2015


Lounge chair for John Lewis

Chris's Osborne lounge chair has just been launched by John Lewis, who have (slightly bizarrely) renamed it Hanoi.
Hanoi has a high back, tapered legs and a lumbar cushion for additional support. It is available in either a solid oak or walnut frame, and is available in a very wide range of fabrics for the upholstery.

The chair can be ordered through the John Lewis website at :
www.johnlewis.com/john-lewis-hanoi-walnut-armchair/p1725511







February 2015


Keeping it Real
Following the success of the Real Craft exhibition at New Brewery Arts, Chris has been invited by the Crafts Council to take part in a panel discussion on the subject : Keeping it Real: Craft and Authenticity
Chaired by Crafts editor Grant Gibson and featuring Chris, Studio Manifold's Zachary Eastwood-Bloom and up-and-coming designer Xenia Moseley – this event sets out to discover where the limits of craft reside and begs the question: what precisely is 'real' craft.
All are welcome : the venue is Heal's at 6pm on Wednesday 11th February.
www.heals.co.uk/page/craft_and_authenticity




February 2015


Hole & Corner at Heal's

Hole & Corner magazine have been coveing The Great Heal's Bodging Race and have made a series of filmed interviews with Carl Clerkin, Gareth Neal, Sarah Kay, Chris, and William Warren.
Watch them at : www.holeandcornermagazine.com/features/hc-craft-talks-with-william-warren.html







February 2015


The Great Heal's Bodging Race

As part of Heal's Modern Craft Market 2015 Chris and the Bodging Project have been invited to stage an experimental furniture-making workshop in the front window of Heal's store in Tottenham Court Road.
Come and see the team live from Wednesday the 4th February until Sunday the 8th.
More details at :
carocommunications.com/heals-modern-craft-market-returns-contemporary-craft-innovative-makers/
and at : www.healsblog.co.uk/great-heals-bodging-race-discovercraft/




January 2015

The Harley Open Exhibiton

Two paintings by Chris have been selected for the third biennial open exhibition at the Harley Gallery, Welbeck. The show opens on the 14th February and will run until the 12th of April.
One of Chris's paintings is previewed here - titled 10 degrees and 6 by 6.

More details at : www.harleygallery.co.uk/exhibition/open-exhibition/









January 2015

New lounge range for Cintique

Chris has designed a range of lounge furniture - called Eden - for Cintique Ltd.
The range includes upholstered single and two-seater ash-framed chairs, and a choice of two rocking chairs. 'Eden', which is a development of Chris's Arden dining chairs, will be launched at the AIS Furniture Show, which runs from the 12th - 14th January, at Cranmore Park in Birmingham.

More details at : www.thefurniture-show.co.uk/






December 2014

A chair for John Lewis

Chris's Osborne chair for Wade Upholstery has been selected by John Lewis for their new collection to be launched in all their stores in the New Year.

Here's a little preview of the frames in the finishing shop at Long Eaton before the cushions are added and the chairs are delivered in January.





December 2014

Heal's Modern Craft Market
Following its launch in 2014, plans for Heal's Modern Craft Market to return to Tottenham Court Road in February 2015 have just been released to the press.
Six designers - Chris Eckersley, Sarah Kay, William Warren, Carl Clerkin, Gareth Neal, and Koji Katsuragi - will take over Heal's front window for a week to stage The Great Heal's Bodging Race. Heal's Creative Director Carmel Allen says 'The live Bodging Race in the windows will be a spectacle in itself and I'm thrilled at the calibre of designers who are taking part - it's going to be very exciting.'




November 2014

The Discerning Eye 2014

The twentieth Discerning Eye show opened at the Mall Galleries on Thursday, and runs until the 23rd of November. This is a huge exhibition of 657 small works by over three hundred artists. Chris's painting Delight this Life was selected by Simon Martin, artistic director of the Pallant House Gallery, Chichester.

More details at :
discerningeye.org/archive/2014/2014_10.php?art=ECKERSLEY,%20Chris





October 2014

Real Craft featured in Handful of Salt

The wonderful California-based magazine and website Handful of Salt is currently featuring Chris's exhibition Real Craft.

Handful of Salt is the home of the modern artisanal movement in the USA, covering the intersection of craft and design. The magazine is edited by Regina Connell, a San Francisco Bay Area writer and speaker specializing in design, contemporary craft, and alternative luxury.

www.handfulofsalt.com/big-picture-real-craft/






October 2014

Real Craft at New Brewery Arts

Chris has been invited by New Brewery Arts to curate an exhibition for their gallery; the show opens on October the 4th and runs until the 16th of November.
The theme is Real Craft and is based on a personal view of craft which is more concerned with the idea of MAKING THINGS than with craft as a vehicle for Fine Art.

Details at : www.newbreweryarts.org.uk/making-a-visit/main-gallery-exhibitions/real-craft and there is also a Real Craft website at : www.real-craft.co.uk

The exhibition catalogue can be ordered from print-on-demand printer Blurb at : www.blurb.co.uk/b/5594110-real-craft-exhibition-catalogue

The Real Craft logo has been designed and printed by Mr Smith : www.smithsrules.com





October 2014

Chairs for Brasserie Blanc

Chris's Coventry chairs have been selected by Brasserie Blanc for seating at their restaurants in Cheltenham and in Winchester. The chairs are handmade by Sitting Firm Chairmakers in English Ash with Elm seats and back rails.

The photograph shows a chair at Coventry's architecturally outstanding raiiway station (designed by W R Headley, and opened in 1962).


brasserieblanc.com/location/cheltenham/
brasserieblanc.com/location/winchester/





September 2014

50 Moments That Changed Craft

As the Crafts Council's CRAFTS magazine celebrates its 250th issue, Chris is one of the contributors to 50 Moments That Changed Craft - a section of the magazine recording the views of makers, historians, writers, collectors, and gallery owners
CRAFTS magazine is out now.
www.craftscouncil.org.uk/articles/fifty-moments-that-changed-craft-1/
www.craftscouncil.org.uk/articles/tags/crafts%20250



September 2014

The Discerning Eye 2014

It's just been announced that Chris's painting Delight This Life has been selected for this year's Discerning Eye exhibition at the Mall Galleries.
The show runs from the 13th to the 23rd of November.


www.discerningeye.org/index.php






September 2014

The Forge Project at London Design Festival's designjunction

The Forge Project has been running over the last year and is a collaboration between designers Anthony Dickens, Chris Eckersley, Gareth Neal, and William Warren - and - the Suffolk-based company Made By The Forge. Each designer has produced a light to be hand-crafted by blacksmith Richard Fishenden.
Additionally Chris has designed the Forge Chair with metalwork by Richard, and chairmaking by Sitting Firm. The whole range is being launched at designjunction.
thedesignjunction.co.uk/ www.madebytheforge.co.uk/




September 2014

Real Craft - why machines are not the enemy


In advance of Chris's exhibition Real Craft which opens at New Brewery Arts, Cirencester, on October 4th, Chris was asked by the Crafts Council to write a piece for the current issue of their magazine CRAFTS, explaining some of the ideas behind the show.

More details and how to get there at:
www.newbreweryarts.org.uk/making-a-visit/main-gallery-exhibitions/real-craft

CRAFTS magazine can be bought at :
www.craftscouncil.org.uk/magazine/issues/








August 2014

Launch of the Cornwall chair at Liberty

Chris's Cornwall chair, which he first made in prototype form last year at the Great Windsor Chair Race, and then refined and developed during a trip to Cornwall, has just been launched by Liberty & Co as part of their Autumn/Winter Collection 2014.
The chair is handmade in English Ash from Herefordshire by Dave Green and his team.

www.liberty.co.uk





July 2014

20 20 Vision

On a brilliant hot day design-writer and photographer Barbara Chandler came to visit Chris at his chapel in Herefordshire as part of her research for 20 20 Vision - 20 years of 100%Design. Barbara has been commissioned by 100% to present a series of photographs for London Design Festival on the theme :
Where are they now?
A show of photographs to celebrate the present success of twenty past exhibitors on the occasion of the twentieth exhibition.

100%Design will be at Earl's Court, London from the 17-20 September 2014.

barbarachandler.co.uk/EXHIBITIONS/2020VISION/index.html




July 2014

Unité drawings

Chris has been back at Le Corbusier's Unité d'Habitation in Marseille making a series of new drawings. These are available as archive quality signed prints on 300gsm Arches paper, and may be bought via the order online section of this website.







June 2014

Chair for John Lewis

Chris's chair for Lloyd Loom of Spalding, which was commissioned by John Lewis as part of their 150th anniversary celebrations, is now available in John Lewis stores nationwide, and online at :

www.johnlewis.com/lloyd-loom-chair-light-blue/p1151412








May 2014

Ariege sideboard with Sarah Kay

The sideboard Chris designed in collaboration with Sarah Kay for Contemporary Applied Art's stand at Design Shanghai is now back (by sea) from China and is on display at the CAA gallery in Southwark Sreet, London.
This piece was very beautifully made by Jeremy Higson of FFB Ltd, Worcestershire.

www.caa.org.uk





May 2014

Launch of the Osborne chair for Cintique

Chris's new Osborne Lounge Chair, manufactured by Cintique, is being launched at the May Design Series held at ExCel in London from Sunday 18th - Tuesday 20th May. Cintique are on stand E290.
More details at www.excel-london.co.uk/whats-on/the-may-design-series/





April 2014

Chairs for the RCA

The Royal College of Art has ordered a pair of Chris's Devon chairs for the reception area at its Sculpture studio in SW11. These will sit either side of a bench designed by Sarah Kay.







April 2014

Cov Rock

Chris has designed a rocking version of his Coventry chair as a one-off piece for a private client. This chair was made as a special birthday present for the client's wife; enquires for bespoke pieces like this are always welcome.












March 2014

John Lewis 150 Year Anniversary

Chris's Lloyd Loom chair is one of seven exclusive pieces commissioned by John Lewis to mark their 150th anniversary. The other chairs are from Ercol, Vitra, and Parker Knoll.
More details in the John Lewis Furniture Directory Spring/Summer '14, available soon in all John Lewis stores or click on this link to the JL website:

www.johnlewis.com/lloyd-loom-chair-light-blue/p1151412




March 2014

The Forge Project update

The Forge Project (Anthony Dickens, Chris Eckersley, Gareth Neal, and William Warren) reconvened at Made By The Forge in Suffolk last weekend to move forward their new designs for hand-forged lighting with master-farrier and blacksmith Richard Fishenden, and his wife Juliet. We are all working towards the launch of a new collection at London Design Week in September.

www.madebytheforge.co.uk/pages/planting-trees.html





March 2014

Unit Twelve Gallery

Chris is exhibiting chairs and birdhouses in an exhibition curated by madebyhand at Unit Twelve - a gallery on a farm in rural Staffordshire.
The show runs from 6th March until the end of May, and is open Thursday - Saturday, 10am - 4pm.

More details and directions at : www.unittwelve.co.uk/exhibitions.htm







February 2014

Design Shanghai with Sitting Firm
Chris is exhibiting his Devon and Coventry chairs with Sitting Firm Chairmakers and the University of Coventry, at their stand at Design Shanghai. Manning the exhibition is designer Bob Verheijden who is launching a new chair; also showing are Dave Green and Katie Walker. This is China's first truly international design event and is expected to attract over 40,000 visitors.
The exhibition runs from the 27th February until the 2nd of March.
www.designshowshanghai.com/uk/contemporary-exhibitors/177-sitting-firm




February 2014

Design Shanghai with Contemporary Applied Arts

Chris is exhibiting a sideboard, designed in collaboration with Contemporary Applied Arts member Sarah Kay, on the CAA stand at Design Shanghai. This beautifully crafted piece, made by Jeremy Higson, is in a combination of rippled sycamore veeneers and solid oak.

www.designshowshanghai.com/uk/





February 2014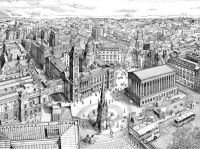 Birmingham Today at the RBSA

Chris has taken W H Brewer's 1886 'Bird's Eye View of Birmingham' as his starting point (you can see this print in the 'Made in Birmingham' section of this website) and re-imagined the same view updated for 2014. This exhibition at the Royal Birmingham Society of Artists which runs from 6th Feb - 1st March is an opportunity to celebrate the second city in all its aspects: topographical, cultural, sporting, culinary, political and social.

more information at http://www.rbsa.org.uk/




November 2013

The Hicks Purchase Prize

It's just been announced that Chris has been awarded the Hicks Purchase Prize at the Discerning Eye exhibition, for his drawing of 'A Day at the Pantheon'.
makingamark.blogspot.co.uk/2013/11/ng-discerning-eye-exhibition-2013-review.html#more








November 2013

The Discerning Eye at the Mall Galleries

The Discerning Eye exhibition - which includes Chris's painting "35" - is now open and continues until the 24th of November. All the works can be viewed in the online catalogue : www.discerningeye.org/exhibition/gallery/gallery.php?filter=ECKERSLEY%2C+Chris









October 2013

The Plein Air Project

Chris and his old art-school friend Philip Woods have been out landscape painting on Hergest Ridge, Herefordshire. This is the first in a series of proposed events throughout the next 12 months.








October 2013

Launch of the Cornwall Chair

Chris's Cornwall chair, which he made in prototype form at this year's Great Windsor Chair Race, and then refined and developed during a trip to Cornwall, is about to go into production.
For further details please telephone or email.








September 2013

The Discerning Eye exhibition

Two drawings and one painting by Chris have been selected for the 2013 Discerning Eye exhibition. This year's show was selected by artists Stephen Farthing and Eileen Hogan, collectors Loyd Grossman and Deborah Swallow (director of the Courtauld Institute), and critics Liz Anderson (The Spectator) and Estelle Lovatt.
The exhibition will run from the 14th to the 24th of November at the Mall Galleries in London.
More details at : www.discerningeye.org/index.php






September 2013

British Design Awards 2013

Sitting Firm Ltd have been short-listed for 'Best British Brand' in the British Design Awards 2013, for their range which features Chris's Devon Bench.

These awards - now in the 12th year - are sponsored by Elle Decoration and John Lewis. The public are invited to vote for their choice at : thebritishdesignawards.com/2013/2013shortlist.html
and the winner will be announced in the December issue of Elle Decoration magazine (published on November 6th).










August 2013

The Forge Project

Chris and fellow designers Anthony Dickens, Gareth Neal, and William Warren were invited by Made by the Forge to spend a day in Suffolk learning some of the traditional skills of hand wrought ironwork. The aim is to come up with new designs and then return for a few days in September to make prototypes. Successful designs will be added to the company's range.
www.madebytheforge.co.uk/pages/farrier.html




August 2013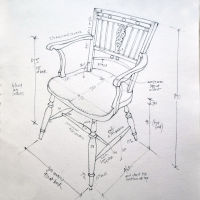 Mendlesham chairs

Chris has been at Christchurch Mansion in Ipswich to research and make measured drawings of their collection of Mendlesham chairs. These chairs, dating from the early 19th century, are a regional variation of the English Windsor chair, bizarrely combining a classical back with a country seat and legs.
www.cimuseums.org.uk/venues/christchurch-mansion/history.html









July 2013

50 Chairs for the Wild Rabbit

Chris has designed fifty chairs - all different - for Lady Bamford's Wild Rabbit pub and restaurant at Kingham in Oxfordshire.
The brief was simple : each chair to be a variation on a traditional West Country design, and the look to be what the French call jolie laide.
www.thewildrabbit.co.uk/dining-room/






June 2013

The 3rd Great Windsor Chair Race

The Chair Racers have been invited back to the Contemporary Craft Festival, held annually in the lovely Devon town of Bovey Tracey. This year the team will be : Carl Clerkin, Chris Eckersley, Gareth Neal, Sarah Kay, and William Warren, assisted by hay-weavers Annemarie O'Sullivan and Tom McWalter, and of course the legendary Arnold of Arnold's Kitchens, Camborne. The festival runs from the 7th to the 9th of June; more details at www.craftsatboveytracey.co.uk




June 2013

The New Craftsmen exhibition and pop-up shop

Chairs by Chris, Sarah Kay, Koji Katsuragi, and Dave Green are part of The New Craftsmen's current exhibition in a former garage (and before that a stable) at 14 Adam Mews, Mayfair - an old mews lane at the side of the Connaught Hotel.
The New Craftsmen Garage opens on 7th June 2013, and guests can buy, commission and experience an eclectic selection of handmade items, including some stunning wood-fired saltglaze pots by Tim Hurn.
www.thenewcraftsmen.myshopify.com/collections/furniture/products/coventry-chair
www.timhurn.co.uk



May 2013

Open Weekend at the Harley Gallery

On the weekend of the 11th and 12th of May, Chris, Gareth Neal, William Warren, and members of the public, will be demonstrating the art of broomstick bodging at the Harley Gallery, Welbeck, Worksop, Nottinghamshire.
www.experiencenottinghamshire.com/whats-on/ready-steady-bodge-p557431





May 2013

Crafts Magazine

To coincide with the Harley Gallery show, Chris was invited to write a piece for the 'Opinion' page of the Crafts Council's Crafts magazine, giving his views on the experience of designers working in the area of craft.
www.craftscouncil.org.uk/crafts-magazine/latest-issue/















April 2013

Drawing the Pazzi Chapel

Chris has been back at the Capella Pazzi at S. Croce in Florence, continuing his series of measured drawings of this early example of Renaissance thinking. The aim of the project is to track down the elusive Florentine braccio and discover how this relates to the underlying logic of the design of the building.
www.santacroceopera.it/en/ArchitetturaEArte_CappellaPazzi.aspx












March 2013

The Bodging Project at the Harley Gallery

The Harley Gallery at Welbeck, the centre in the East Midlands for contemporary art and craft, is hosting a comprehensive exhibition of pieces from Bodging Milano and the Lloyd Loom Elves throughout its three main galleries.
In addition work by some of the group made before and after their time spent bodging will be exhibited in order to show how the experience of traditional craftwork has affected the designers' practice.
March 27th until June 2nd.
www.harleygallery.co.uk



March 2013

Harley Gallery exhibition catalogue

A fully illustrated 100-page exhibition catalogue, edited by Chris Eckersley, with an introduction by David Dewing (Geffrye Museum) and essays by Grant Gibson (Crafts Council), Amos Marchant, Gareth Neal, William Warren, Simon Maidment, and others, is now available from on-demand printers 'Blurb'.
The catalogue can be ordered online (price £25) at :
www.blurb.co.uk/b/4148466-the-bodging-project-exhibition-at-the-harley-galle



January 2013

INTERIORS UK 2013 at the NEC

Chris is showing a new colour installation - 100 Real Colours in the VIP Lounge, also new seating with Sitting Firm, and his Spalding chair for Lloyd Loom in Designersblock's fabulous department store.www.interiorsuk.com/page.cfm/Link=28



November 2012

Spalding Chair

Chris's Spalding chair for Lloyd Loom is going into factory production, and, along with four other pieces from the 'Elves' project, will be added to the classic Lloyd Loom range early in 2013.
www.lloydloom.com







September 2012

New Brewery Arts

Chris has been appointed to the Board of Trustees of New Brewery Arts. Set in the heart of the Cotswolds, NBA has a contemporary art gallery, craft shop, cafe, theatre - and 12 working studios with resident makers. www.newbreweryarts.org.uk



September 2012

London Design Festival : The Lloyd Loom Elves

One weekend in June five designers crept into the Lloyd Loom factory in Spalding, helped themselves to furniture components, and between them made a collection of thirteen new products, which the factory staff discovered on Monday morning.
Lloyd Loom have developed seven pieces for prototyping, which will be shown at designjunction during London Design Festival.
thedesignjunction.co.uk/brands/#brand-elves





September 2012

London Design Festival : Bodging Milano 2

Designersblock are showing a collection of woodland chairs made by the second group of Milano Bodgers, at the Royal Festival Hall and the Queen Elizabeth Hall, Southbank. This will mark the fifteenth annual Designersblock London show.
More details at : www.verydesignersblock.com/2009/2012/08/20/bodging-milano-2012/#more-11541







September 2012

London Design Festival : Devon Bench

Sitting Firm Chairmakers are launcing a new bench designed by Chris - Devon Bench - on their stand at designjunction . The show runs from the 19th - 23rd September at The Sorting Office, New Oxford Street, London.
More details at : www.thedesignjunction.co.uk/#






July 2012

Bodging Milano 2

Bodging Milano returns with new group of designers who were invited by Chris Eckersley and Rory Dodd to take to the woods for another back-to-basics chair-making workshop. Many thanks again to Gudrun Leitz at Clissett Wood, Herefordshire. More details and the full photos at www.bodgingmilano.co.uk/section627083.html





June 2012

launch of the Fife Bench

The 22nd of June marks the official launch of the Fife Bench project. Eighteen public benches (designed by Chris Eckersley and William Warren) have now been installed around the Ancient Kingdom of Fife.
Click on www.fifebench.org.uk/ for more details, and find out how you can follow the Fife Bench Trail. The bench in this photograph is at a road junction in Buckhaven.






June 2012

The Contemporary Craft Festival

For the second year Chris Eckersley, Carl Clerkin, Gareth Neal, and William Warren are presenting The Great Windsor Chair Race at this lovely event in the Devon countryside. Many thanks to Ercol who are kindly sponsoring us again by donating components.
More details at : www.craftsatboveytracey.co.uk/whats-on





May 2012

The Craft of Design at Milliken

Chris will be on the panel of the discussion The Craft of Design led by Grant Gibson at Milliken, as part of Clerkenwell Design Week. www.clerkenwelldesignweek.com/showrooms/list/56-milliken




April 2012

Design Guild Mark

Chris has been awarded a Design Guild Mark by the Worshipful Company of Furniture Makers (one of the London Livery Companies) for his Devon chair. A small number of these awards are made annually to 'mark and reward the work of the finest designers working in Britain and the best of British designers working abroad'. www.furnituremkrs.co.uk /GuildMarkSelect.aspx?qsType=Design









March 2012

Jerwood Drawing on tour

The Jerwood Drawing Prize exhibition moves to the Lanchester Gallery, Jordan Well, Coventry, and the show is on from the 2nd to the 31st of March.
www.lanchestergalleryprojectsevents.blogspot.co.uk/2012/03/blog-post.html








January 2012

Jerwood Drawing on tour
The sixty drawings from this year's Jerwood Drawing Prize exhibition (which includes Chris's drawing of a room at Le Corbusier's Marseille Unite building) goes on tour to the Bayart gallery in Bute Street, Cardiff. The exhibition runs from the 4th to the 26th of January. More details at : www.jerwoodvisualarts.org/page/3091/Jerwood+Drawing+Prize+2011/211



January 2012

Interiors 2012

At Interiors 2012 at the NEC, Birmingham, Chris is showing chairs and a new coffee table with Sitting Firm in Hall 1; colour charts in the press/VIP Lounge in Hall 2; and bird houses with Designersblock in their Design Village, - also in Hall 2. The show is on from the 22nd to the 25th of January.
www.interiorsuk.com/page.cfm/Action=Library/libID





January 2012

Top Drawer : Home

The production version of Chris's Devon chair is being launched by manufacturers Sitting Firm Chairmakers at 'Home' - the brand new homewares show. The exhibition runs from the 15th - 17th of January at Earl's Court 2, London.
Details at :
www.home-london.net/visitor-information/co-location-with-top-drawer/
December 2011

Fife Benches installed

All eighteen public benches, designed by Chris and William Warren, have now been installed around the ancient kingdom of Fife. Some have views of the Firth of Forth, another has a view of a traffic roundabout, but all have been well received by the locals. Residents' group CLEAR have described the benches as 'a real asset'.














November 2011

Fife Bench in production

The manufacture of the first eighteen benches is now nearing completion at the factory of Envirovent Ltd, in Thornton, Fife. In December the benches will be delivered and installed at sites across Fife, including Tanshall, Inverkeithing, Buckhaven, Dunfermline, and Lochgelly. www.sfha.co.uk/hst/archive/new-project-brings-fife-bench-to-5-fife-tow





November 2011

Midcentury Modern

Chris, along with Dave Green and William Warren, will be exhibiting for one day only at Midcentury Modern, on Sunday 20th November, from 10am until 4pm, at Dulwich College, London. We have a selection of new work all now in production at Dave Green's re-formed company - Sitting Firm Chairmakers.

More details at :
http://modernshows.com/the-shows/dulwich-2011/
September 2011

Jerwood Drawing Prize

Chris's drawing of a room at Le Corbusier's Unite d'Habitation can be seen at the Jerwood Drawing Prize exhibition, Jerwood Space, 171 Union Street, Bankside, London. The show is on from the 14th of Septmber until the 30th of October.
More details at : www.jerwoodvisualarts.org/






September 2011

Colour Charts

There will be an exhibition of Chris's hand-painted colour charts, inspired by the colours found in the University of Birmingham's Winterbourne Botanic Garden, at the Coach House Gallery, Winterbourne House and Garden, Edgbaston Park Road, Birmingham, from the 1st of September until the 13th of October. Directions at : www.winterbourne.org.uk/whats-on/exhibitions/cat.listevents/2011/07/31/-






August 2011

New sideboard for Liberty

Chris has designed a new sideboard - Arden Two - for Liberty, featuring an exclusive colour palette derived from his Winterbourne Colour Charts project. Available now from Liberty's furniture department.
www.liberty.co.uk







July 2011

Bird houses at Yorkshire Sculpture Park

Chris's Byrdhouses are showcased at Yorkshire Sculpture Park, along with paper flowers made by artist Suzi McLaughlin. The exhibition runs until September the 4th.
More details and how to get there at : www.ysp.co.uk/exhibitions/ysp-shop-showcases






July 2011

Jerwood Drawing Prize

It has just been announced that Chris is one of the artists shortlisted for this year's Jerwood Drawing Prize. The exhibition opens at the Jerwood Space, London, on September 14th, and then tours nationally. More details at : jerwoodvisualarts.org/page/3423




June 2011

Fresh Air 2011 with New Brewery Arts

Chris and Gitta Gschwendtner are showing oak benches in the Pool House at Fresh Air 2011 held in the lovely riverside grounds of Quenington Rectory, Gloucestershire. The exhibition is on from 19th June until 10th July. More details at www.newbreweryarts.org.uk/about-us-and-what-we-do/events/fresh-air-2011-c-514_370_377.html






June 2011

The Great Windsor Chair Race

At this year's Contemporary Craft Fair, Chris and fellow designers Carl Clerkin and William Warren are staging The Great Windsor Chair Race - a three day competition to see who can make the most, or the best, or the most innovative Windsor Chair, from components kindly donated by ERCOL.
See the Crafts Council blog : www.craftscouncil.org





June 2011

FX Magazine

On the 60th anniversary of the Festival of Britain, Chris, along with Wayne Hemingway, Matthew Hilton, and Russell Pinch, are interviewed by FX Magazine on the subject of how mid-century design casts its influence on the design of today.
www.fxmagazine.co.uk/features/festivals-of-design/






May 2011

Bodging at Clerkenwell Design Week

The Bodging Milano group is showing a representative selection of the current range as part of Clerkenwell Design Week. The show is on from the 24th - 26th May in the Farmiloe Building, St John Street, London.
Registration and information at www.clerkenwelldesignweek.com/exhibitions/farmiloe-building/





May 2011

Midcentury Modern at Lord's

For one day only on Sunday the 15th of May, Chris is exhibiting new work with Midcentury Modern at Lord's Cricket Ground London. Meet the vintage dealers and see Chris's garden range outside the Nursery Pavilion. From 9am until 4pm. More details at
www.modernshows.com/docs/shows/midmod/index_2.html






May 2011

Bodging film at Collect
On Friday the 6th of May, the Crafts Council will present the Bodging Milano film at Collect (the International Art Fair for Contemporary Objects) at the Saatchi Gallery, King's Road, London. More details at :
www.craftscouncil.org.uk/collect/galleries-and-events/whats-on/view/crafts-presents/detail



April 2011 - Fife Bench Community Colour Picker


The prototype bench is now being made at Thornton, in Fife, and local residents are helping to choose the colour combination for the benches in their area. Click on this link www.paceprojects.org/fifebench/colour-picker/ use the interactive colour picker, and see which colours you prefer.


April 2011 - Vogelschau in Hamburg


Chris has made some new wall-mounted bird houses for the exhibition Vogelschau ('Bird-show') at the Crafts2eu Gallery in Hamburg. The show opens on the 27th of April and continues until the 18th of June.

More information is at : www.craft2eu.net/index.php?id=470&L=0


April 2011 - Salone del Mobile Milan

Chris and the Milano Bodgers are exhibiting with Designersblock as part of Ventura Lambrate, from the 12th to the 17th of April. This show will launch the collection of chairs produced at Dave green's Sitting Firm factory.
For more details, times, and directions, go to www.venturalambrate.com/


March 2011 - Bodging Milano website


Chris and the Milano Bodgers now have their own website dedicated to all things bodging. The whole project, the exhibitions, and updates on future activities, can all be seen at :


www.bodgingmilano.co.uk

In addition you can order a chair online from the Bodging Collection. Collect the set!


March 2011 - Midcentury Modern


Chris is again exhibiting at the one-day Midcentury Modern show to be held at Dulwich College on Sunday the 20th of March. New designs will include dining table and benches made by Dave Green of Sitting Firm Ltd, and a range of painted wooden candlesticks. This is a fantastic day out in South London, with lots of vintage dealers attending. More details at : www.modernshows.com/docs/shows/midmod/index


March 2011 - Global Colour Research


Chris has been invited to join the London panel of Global Colour, which is an international colour consultancy providing colour trend information two years ahead of season. The bi-annual colour forecast book Mix Trends is a tool which helps businesses understand colour, seasonal trends, and their implications. More information at the website : www.globalcolor.co.uk


January 2011 - Interiors 2011


Chris is exhibiting new work with Designersblock as part of Thinking Space at Interiors 2011 at the NEC, Birmingham. The exhibition runs from the 23rd to the 26th of January.

For more details and to pre-register go to : www.interiorsbirmingham.com/page.cfm/Link=36


January 2011 - 1000 Designs for the Garden


Chris's Byrdhouses are featured in the new book 1000 Designs for the Garden and Where to Find Them by Geraldine and Ian Rudge, published by Laurence King.

Order now on Amazon : www.amazon.co.uk/1000-Designs-Garden-Where-Find/dp/1856697037/ref=sr_1_4?s=books&ie=UTF8&qid=1295353021&sr=1-4


November 2010 - Midcentury Modern


For one day only, on Sunday November 14th, Chris is exhibiting new work with Assemblyroom and Sitting Firm at Midcentury Modern - a selling exhibition at Dulwich College, London.


More details at : www.modernshows.com/docs/shows/midmod/index.html


October 2010 - Bodging at Barbed


Following the Bodging group's show at the Bargehouse during London Design Week, all the chairs are now being shown in a selling exhibition at Barbed in Barnes, West London, until the 8th of November.


For details of Barbed, see : www.barbedltd.co.uk


October 2010 - Grand Designs Live

Chris's A-Frame Pavilion - manufactured by Sitting Firm Ltd - will be exhibited on their stand at Grand Designs Live, at the NEC, 8th-10th October. Chris has designed a new desk and home office furniture for the pavilion interior. See us at Stand G520.
www.sittingfirm.co.uk/News/2010/10/A-Frame-at-Grand-Designs-Live-2010/


September 2010 - Two's Company at the V&A


On the 24th of September, Chris and the Milano Bodgers were invited to take part in Two's Company at the V&A Museum, as part of London Design Week. For one evening they presented The Fantastic Broomstick Bodge where members of the public were helped to make 'love-seat' benches from old broomsticks and plywood. See : www.flickr.com/photos/fridaylate/sets/72157624920539591/


September 2010 - London Design Festival

The Milano Bodgers are showing their woodland chairs plus the new chairs made at Dave Green's factory in Coventry with Designersblock, at the Bargehouse, South Bank. The show is on from Thursday 23rd until Sunday 26th September. See the Crafts Council review at : www.craftscouncil.org.uk/crafts-magazine/blog/photo/2010/designersblock-and-a


September 2010 - Fife Bench Project


Chris and fellow designer William Warren have been selected by public art commissioning body PACE to work on designs for public seating for five locations in the ancient Kingdom of Fife.
To view initial concepts please go to :
www.paceprojects.org/fifebench/blog/


August 2010 - Sideboard at Liberty


Chris's Arden sideboard in solid Ash with painted sliding doors is now available at Liberty's in London. See it in the furniture department on the top floor.

www.liberty.co.uk/


July 2010 - Bodging in Whitehall


During July, August and September, the Crafts Council is exhibiting the Bodging Milano group of chairs at the Ministerial Office of the Department of Culture Media and Sport.


www.craftscouncil.org.uk/about-us/press-room/view/2010/craft-objects-in-dcms-office?from=/about-us/press-room/


July 2010 - Cov-Bodge

On July 9th the Milano Bodgers got together again, this time at Dave Green's chair factory in Coventry. The Bodgers took over the whole factory for three days and made fourteen newly-designed chairs. The results will be exhibited with Designersblock during London Design Week. Watch the video at : www.youtube.com/watch?v=Q5zEHApBJyY


June 2010 - The Contemporary Craft Fair 2010

Chris is once again exhibiting new work at the Contemporary Craft Fair held at Mill Marsh Park, Bovey Tracey, in the beautiful Devon countryside. This year Chris is presenting a wide range of outdoor pieces - including the 'A'-Frame Pavilion and a new trestle table - in a contemporary garden setting. 11th - 13th June

www.craftsatboveytracey.co.uk/whatsOn.php


April 2010 - Designersblock Milan 10:10

Greenwood chairs from the Bodging Milano project are on show at Spazio Revel, Via Thaon di Revel, Isola, Milan, from April 14th to the 19th, as part of Designersblock Milan 10:10.
Watch out for the forthcoming article on this in the next issue of Crafts Magazine
www.craftscouncil.org.uk/crafts-magazine/latest-issue/feature/1


March 2010 - Bodging Milano

Following on from Chris's chair-making with Gudrun Leitz last year at Clissett's Wood, Herefordshire, he is returning with nine designer friends on 30th March for another week in the woods. The results will be exhibited at Spazio Revel in Milan, from 14th - 19th April. http://www.verydesignersblock.com/2009/2010/02/02/bodging-milano/


March 2010 - West Midlands Open


Seven into Six - a recent painting by Chris Eckersley - is one of 140 works by Midlands-based artists selected for the exhibition West Midlands Open.

The show runs from 6 March until 2 May at the Gas Hall, Birmingham Museum and Art Gallery.

See : http://www.bmag.org.uk/events?id=558&start=6


February 2010 - Reap and Sew


Chris is taking part in the exhibition Reap and Sew at the Oriel Myrddin Gallery, Church Lane, Carmarthen, which opens on the 27th February until the 3rd of April. The show features a selection of craft and design objects influenced by gardens and growth.

More details at : http://www.facebook.com/album.php?aid=153247&id=92260043325


January 2010 - Barbara Bench launched


Launched at Thinking Space at the NEC is a sculptural bench designed by Chris and made from half an oak tree, sliced into boards and then cut to form a garden seat, the bench is named after photographer and design-writer Barbara Chandler, whose chance remark to Chris at 100%Design gave him the idea.
www.flickr.com/photos/barbarachandler/4305073920


January 2010 - Thinking Space at the NEC


Chris Eckersley is exhibiting with Designersblock at Thinking Space, which is part of Interiors 2010 at the NEC, Birmingham.
The show is from the 24th to 27th January and sees the launch of Chris's A-Frame Pavilion. OK - yes - we're showing a garden pavilion at an Interiors show!

More information at :
www.interiorsbirmingham.com/page.cfm/link=6


November 2009 - RBSA Exhibition


Chris is exhibiting a cut paper collage - From White to Black -in the current exhibition at the Royal Birmingham Society of Artists.

The show is on from the 18th November until the 24th December, at the RBSA Gallery, 4 Brook Street, Birmingham B3 1SA.


November 2009 - Making Plans For Nigel


For the last year Chris has been acting as architectural draughtsman on a project with Nigel Gilks Cabinetmakers, of Winchcombe, Gloucestershire.
Nigel's brief was to create seventeen doorways in the style of Robert Adam, for a house in Berkshire. One of these stole the show earlier this month at the annual Historic Buildings, Parks and Gardens Event in London, thus disproving the theory that there are no skilled craftsmen left in this country!


September 2009 - There's No Place Like Home


Follow this link : www.elladoran.co.uk/index.php?id=news and you can view all the placemats in Ella Doran's current exhibition. Also you can place your bid in the silent auction - please bid before October 3rd and help raise money for Shelter.


September 2009 - London Design Festival


Chris is exhibiting new work - designed for Sitting Firm Ltd - at Designersblock which this year is alongside 100%Design at London's Earl's Court. See us in the second hall on Stand D14.


More information at : www.verydesignersblock.com/2009


September 2009 - London Design Festival


Chris is among 22 artists and designers invited by Ella Doran to design a set of table mats on the theme There's No Place Like Home for a selling exhibition of limited edition mats to take place at Ella's Cheshire Street shop from September 9th to October 3rd. All profits will go to the charity Shelter.
www.londondesignfestival.com/tag/placemats


July 2009 - 78 Derngate


A selection of Chris's Byrdhouses is in the current exhibition at 78 Derngate, Northampton - the Charles Rennie Mackintosh House and Gallery.
The show runs from July 18th until October 4th.

www.78derngate.org.uk


July 2009 - Bodging in deepest Herefordshire


Chris has been learning the secrets of greenwood Windsor chair-making from Gudrun Leitz at her outdoor workshop in Clissett's Wood, Herefordshire.
Anyone wanting to know more about cleaving, pole-lathing, adzing, steaming, bending, and legging-up, should book themselves in for a week in the woods with Gudrun :
http://www.greenwoodwork.co.uk/website/chair_making.html


June 2009 - Wee Birdy Pick of the Week !


Chris's Byrdhouses are this week's pick-of-the-week on the ever-popular top blog Wee Birdy.

www.weebirdy.com/2009/06/birdy-pick-.html


June 2009 - New work at Barbed


Chris's colourful French table and bench set, in powder-coated steel on solid oak frames, and his new StarStar planters are now available from Barbed Ltd, the fantastic store in Barnes (West London) which promises you a new look at outer space.
see : http://www.barbedltd.co.uk


June 2009 - Fresh Air Sculpture Biennale


Chris is exhibiting with New Brewery Arts in the Pool House at Fresh Air 2009 in the gardens of Quenington Old Rectory, Near Cirencester, Gloucestershire. The exhibition runs from 14 June to 4 July and is open from 10am to 5pm daily.

http://www.newbreweryarts.org.uk/?page_id=1453


June 2009 - The Contemporary Craft Fair


Chris is exhibiting new work including digital prints and furniture at this year's Contemporary Craft Fair, held in the beautiful Devon countryside town of Bovey Tracey. 5-7 June, from 10am to 5pm daily.
http://www.craftsatboveytracey.co.uk/


May 2009 - Chelsea Flower Show


Chris is exhibiting again this year at Chelsea Flower Show - this time with four other members of Design Nation : Ella Doran, Sharon Elphick, Katy Holford, and Carole Waller.
New work will include Chris's StarStar planters.
See us on Cross Way at Stand CW/04, 8am to 8pm daily (Saturday 8am - 5.30pm), 19 -23 May.
http://www.rhs.org.uk/whatson/shows/chelsea2009/


April 2009 - Smile with DesignersBlock in Milano


Chris has been working on a new dining table and chair range with Coventry-based furniture-makers Sitting Firm which will be launched at the Milan Furniture Fair, as part of the exhibition Smile.

DesignersBlock, Spazio Revel, Revel Scalo d'Isola, Via Thaon di Revel, Milano, Italy - April 22 - 27
http://www.verydesignersblock.com/2009/2009/04/01/smil


April 2009 - Juliette at Burford Garden Company


Chris's wheelbarrow-seat - Juliette - is now available at the wonderful Burford Garden Company, Oxfordshire.
http://www.burford.co.uk/shop/index.php?main_page=product_info&cPath=1_9&products_id=1915


March 2009 - Top Dog at Bilston Craft Gallery


Final showing for the Top Dog exhibition is at Bilston Craft Gallery, from 7th March to 16th May.



Details at : http://www.wolverhamptonart.org.uk/bilston/exhibitions/003858.html


January 2009 - New Brewery Arts, Cirencester


Jane Bevan's Top Dog exhibition (featuring Chris's Byrdhouses ) is now showing at New Brewery Arts in Cirencester, Gloucestershire. The show is on from 10th January to the 1st March.



see: www.newbreweryarts.org.uk


September 2008 - Terence Conran's Inspiration


Juliette (Chris's wheelbarrow-that-is-also-a-garden- seat) has been chosen by Sir Terence to be included in his new book Terence Conran's Inspiration. Co-authored with design writer Stafford Cliff, the book is published on the 15th September, price £40.

Order now from Amazon : www.amazon.co.uk/s/ref=


September 2008 - Decorex


For the first time in many years Chris is exhibiting at Decorex which is held from the 21st - 24th September at the Royal Hospital, Chelsea, London. Chris is showing with Design Nation on stand F209, and all the work on the stand this year will have an outdoor theme.

www.decorex.com


September 2008 - Birmingham Artsfest

Chris has been invited by Artsfest to display a range of recent work in the grand entrance hall of Birmingham Council House during the weekend of 13th and 14th September. Everything at Artsfest is free and the festival features a huge number of events around the city.
More information at : www.artsfest.org.uk


September 2008 - Eureka Award

Chris Eckersley's dining-table and chair design for Neville Johnson Ltd has been short-listed for this year's Eureka Award, which celebrates successful collaboration between British designers, manufacturers and retailers. The furniture - called Kite - forms part of an exhibition at the Royal Festival Hall, London, from the 11th to the 18th of September.
See: www.londondesignfestiva


June 2008 - Own Art in Liverpool


Chris's Rockin' Bench has been selected by the Arts Council for their stand at the first Design Show Liverpool which takes places at the Contemporary Urban Centre, Greenland Street, Liverpool, from the 19th - 22nd June.


www.artscouncil.org.uk/ownart


June 2008 - The Contemporary Craft Fair

Chris is exhibiting again this year at the Contemporary Craft Fair, which takes place in the lovely setting of Bovey Tracey, Devon. The show is open from the 6th to the 8th of June at Mill Marsh Park. New work includes a highly colourful range of deckchairs, printed with designs from Chris's Harbour images.
www.craftsatboveytracey.co.uk


May 2008 - Impress the birds in Scunthorpe!


The Top Dog exhibition has now moved to the 20-21 Visual Arts Centre in Scunthorpe and on the 30th and 31st May there is a children's activity event to design and make 'a bird feeder influenced by the school of Bauhaus and the bold geometric bird boxes by Chris Eckersley'.

www.northlincs.gov.uk/


May 2008 - Cure Leukaemia Art Auction 2008


Chris is one of more than 40 artists to have donated work to this year's Cure Leukaemia art auction, which will be held on 20th May in 'the opulent surroundings' of the Banking Hall of Wragge and Co, 55 Colmore Row, Birmingham. Bidding starts at 7.30pm.

www.claa2008.com


April 2008 - The Note 'C' with Creamer and Lloyd

April 8th saw artists Chris Eckersley, Louise Greenfield, and Dae Hun Kwon collaborating in an event at Jasmine Studios, Shepherd's Bush, London, curated by Rita Parente of Submit2Gravity.
More details at www.submit2gravity.co.uk/123701.html
Creamer and Lloyd work with artists to bring their perspective to business organisations. www.creamerandlloyd.com


March 2008 - Paradise Stories


Chris, and seven other artists from Georgia to Stuttgart, are featured in Paradise Stories curated by Liverpool-based artist Kai-Oi Jay Yung. The show is at the International Gallery, Slater Street, Liverpool, from March 4th - 21st. (Thursday-Sunday 12-6pm)


More details at : www.myspace.com/paradisestories


December 2007 - Gifted

Chris is exhibiting with The Devon Guild of Craftsmen at their Christmas selling exhibition Gifted at Riverside Mill, Bovey Tracey, Devon, from the 17th November until the 31st December. Chris's piece is Rockin' Bench - a rocking version of his oak garden bench.
www.crafts.org.uk


November 2007 - Top Dog

Chris is one of 23 artists and designers exhibiting at Top Dog - Designed with Animals in Mind which opens at Bradford 1 Gallery on 16th November and runs until 2nd March 2008. The exhibition will then tour nationwide and will end up at Bilston Craft Gallery in March - June 2009. Chris is showing three Byrdhouses, a dog basket, and a cat basket.

www.bradfordmuseums.org/bradford1gallery/ind


October 2007 - Barbed


Chris is participating in the Autumn Exhibition at Barbed in Barnes High Street, London SW13. The exhibition runs from October 11th until November 2nd.

www.barbedltd.co.uk


September 2007 - 100%Design


Chris Eckersley is exhibiting again with Design-Nation at this year's 100%DESIGN, held at Earl's Court, London. The show runs from September 20th to 23rd, and Design-Nation are at stand H39. Chris is launching Donald - a versatile new range of shelving and wall storage in oak veneer with Formica panels.


June 2007 - Any Dream Will Do

Chris's colourful (almost Technicolor!) Gas Street prints have been chosen for the living room at the Any Dream Will Do house, where the twelve finalists will live whilst being selected for the lead in Joseph And The Amazing Technicolor Dreamcoat.

Catch it on BBC1, Saturday evenings at 7.45, until June 4th.

www.bbc.co.uk/joseph


June 2007 - The Contemporary Craft Fair

The Contemporary Craft Fair, in association with the Crafts Council, is one of the largest and highest quality shows in the country. Chris will be among the 160 designer-makers exhibiting this year.
Mill Marsh Park, Bovey Tracey, Devon, from the 8th to 10th of June.

www.craftsatboveytracey.co.uk


May 2007 - Chelsea Flower Show

Chris will be exhibiting again this year at Chelsea. Existing ranges will be available along with some new items specially designed for the show. All Chris's garden furniture now bears the FSC label which identifies products that promote resposible management of the world's forests.
Stand No. CW5. Tuesday 22nd May - Saturday 26th.
wwww.chelsea-flower-show.com



April 2007 - The Note C at Gloucester Cathedral

Chris has been invited by the Dean of Gloucester to exhibit his sound-sculpture The Note C in the Cloisters of Gloucester Cathedral from 11th - 30th of April. The installation will occupy all four sides of the fourteenth-century cloisters.
See:www.gloucestercathedral.org.uk
Or visit the BBC website to see and hear The Note 'C'
Link to BBC feature


April 2007 - Cure Leukaemia Art Auction

Chris is participating in Art Auction 2007, a three day exhibition of contemporary art in Birmingham, raising money for the new Leukaemia Centre at University Hospital, Birmingham.
From Sunday April 15th to Tuesday April 17th at St Paul's Gallery, Northwood Street, Birmingham B3.
www.claa2007.com


January / February 2007 - Abandoned Chairs

Abandoned Chairs is an exhibition organised by artist Paul Kuzemczak of 60 chair photographs from around the world. Chris's photograph shows an Eames chair abandoned in Willows Road, Birmingham, in the summer of 2006.
The exhibition is at Norwich Arts Centre and runs from 15 January to 28 February, and an illustrated book is available, price £5.

see www.norwichartscentre.co.uk/content/view/798/


November 2006 - FSC Certification

Chris's garden furniture products have been certified (SA-COC-1654-BI) in accordance with the requirements of the Forest Stewardship Council, which guarantees that they are in compliance with high environmental and social standards for responsible forest management.
By buying FSC certified products you are promoting responsible management of the world's forests.


October 2006 - The Note C Up North

Chris has been commissioned by Create UK to present The Note C as part of Digital Scarborough. The installation can be seen at South Bay Underground Car Park from 10th - 12th October from 12noon until 5pm, daily.


September 2006 - Echo - a new range of tables

At 100%Design this year, Chris Eckersley is exhibiting with Design Nation on stand M110 and is launching Echo - a new range of occasional tables, manufactured by Jeremy Higson Ltd. The table tops feature a variety of surfaces; from Formica to inlaid veneer. September 21st - 24th, Earl's Court, London.
See:
www.designnation.co.uk


June 2006 - University of Hertfordshire

Chris has been appointed as Principal External Examiner for the BA (Hons) Interior and Spatial Design course at the University of Hertfordshire.

www.perseus.herts.ac.uk/courses/art/


April - May 2006 - From Harbour to Gas Street

At Penzance Arts Club, from April 11th - May 7th, Chris will be showing Gas Street - a new series of prints. These are inspired by the shapes and colours around Gas Street canal basin in Birmingham, and form an interesting contrast with Chris's Harbour prints of 2003.

www.penzanceartsclub.co.uk

March 2006 - The Note C

Chris's interactive sound sculpture The Note C forms part of Betrayed
by the Senses - an exhibition at the Bargehouse, Oxo Tower Wharf, South Bank, London, from 16th March until 2nd April

For more details go to : href="http://www.oxotower.co.uk/Betrayed.html"> www.oxotower.co.uk/Betrayed


October 2005 - Seeds and Seats Exhibition in London

Chris is showing new work at Seeds and Seats, an exhibition opening on 7th October and running until the end of November at Barbed Ltd, 3 Liffords Place, Barnes High Street, London SW13. Included is 'Juliette' - a garden-seat-which-is-also-a-wheelbarrow.

More details at href="http://www.barbedltd.co.uk">www.barbedltd.co.uk


Sept 2005 - 100%Design

Chris is launching a new range of metal and wood furniture at 100%Design. This is the UK's premier design event and is held at Earl's Court from 22nd to 25th September.
More details at www.100percentdesign.co.uk


July 2005 - Trombé Range at Ella Doran

The Trombé range is now available in London at Ella Doran's newly opened studio and shop in Cheshire Street, E2 - and also at The Garden Design Studio in Columbia Road, home of the popular Sunday morning flower market.

Visit the Ella Doran website at www.elladoran.co.uk


June 2005 - Trombé Range in Paris

The Trombé range is now available in France through Le Prince Jardinier, the charming boutique of Prince Louis Albert de Broglie (the gardening prince!) in the Arcades du Palais Royal in Paris.

View the website at www.princejardinier.fr


May 2005 - Chelsea Flower Show

Chris is exhibiting sculpture and garden furniture at this year's Chelsea Flower Show, London. Visit the Chelsea Flower Show website at

www.chelsea-flower-show.com